Science of Living Department
Food and Nutrition Major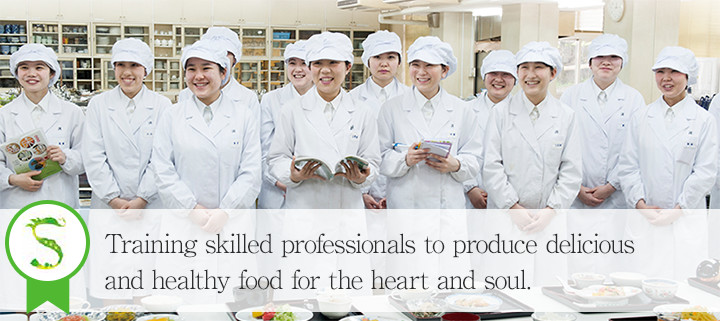 ---
A Unique Way of Learning

Training talented specialists

Our college offers professional training for those wishing to become nutritionists, dietitians and food scientists. Through teamwork, experiments and practical training, we train talented professionals who excel in a wide range of leadership roles.
Practical information processing skills

Students are taught how to utilize a range of technologies for use in the workplace, including using computers to manage meal services and nutritional guidance.
Confidence through practice.

From their 1st year students can participate in internships. After extensive training in meal service management on campus, our students are placed in hospitals, preschools and welfare institutions to gain real world experience.
Excellent results

A great number of our students receive high marks, well above the national average, in the countrywide dietician examination.
The Style of Learning

1st year 1st semester: Fundamentals

Students will learn the necessary basics of food and nutrition through the study of such subjects as food preparation, nutritional science, dietics and food hygiene.
1st year 2nd semester: Extended knowledge and skills

Students will gain a deeper understanding through specialized lectures, experiments and practical training. They begin to train in the nutritional/dietician skills they will need in the workforce.
2nd year 1st semester: Onsite training

Through practical training students gain the real world knowledge and skills they will need to succeed in the workforce. This includes more specialized knowledge and techniques in such fields as clinical dietetics, biochemistry and nutritional informatics.
2nd year 2nd semester: Refinements and applications

Students refine their specialized knowledge and prepare to apply it in the workforce. They aim to complete their knowledge and sit the national dietician examination in December.
Available Qualifications & Licenses

Nutritionist Certificate
Nutritional Teacher Second Class License
Food Scientist
Social Welfare Officer
Food and Nutrition Major Curriclum