Science of Living Department
Child Studies Major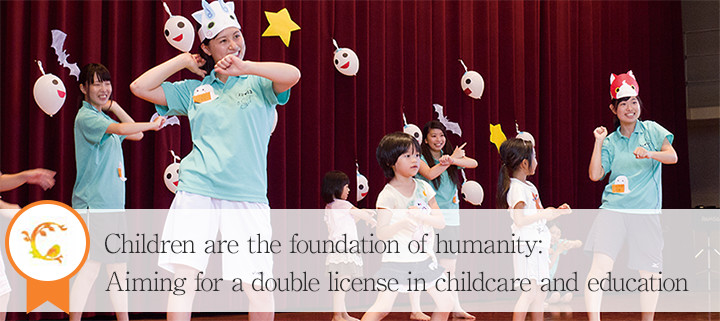 ---
A Unique Way of Learning

Training professional childcare role models

Along with receiving specialized training, students are also taught how to properly think and act in order to produce childcare specialists whose humanity and kindness will become a role model for the coming generations.
A deeper understanding of children

It is essential for childcare specialists to have a deep understanding of children. Through specialized practical training, students will learn how children are shaped by their surroundings.
Training through experience

Along with the double license in children's education and childcare qualifications, students will have many chances to experience working with children themselves on campus.
Practical information processing skills

Students are taught how to utilize a range of technologies for use in the workplace. These include training in webpage and album creation, scheduling and project planning.
The Style of Learning

1st year 1st semester: Fundamentals of childcare

Students will study childcare theory and child psychology that serves as the foundation to learning various skills such as teaching through rhythm and child studies fieldwork.
1st year 2nd semester: From theory to practical application

The students first practical training will be in 'kindergarten teaching 1'. This subject will provide students with practical training in many necessary areas such as schedule design and record taking. Students can also receive specialized training in teaching children with disabilities.
2nd year 1st semester: Enrichment through practice

Along with father childcare training, students will expand their studies through learning about such things as child dietetics, child interpersonal relationships and child health.
2nd year 2nd semester: Combining theory with practice

During this time students will begin preparation to enter the workforce as a contributing member of society. Students will learn through integrated subjects. Students conduct graduation research into such fields as general childcare and household childcare.
Available Qualifications & Licenses

Double License in Preschool/Kindergarten Teaching
Childcare Worker
Social Welfare Officer
Child Studies Major Curriculum