Science of Living Department
Science of Living Major,Modern Business Course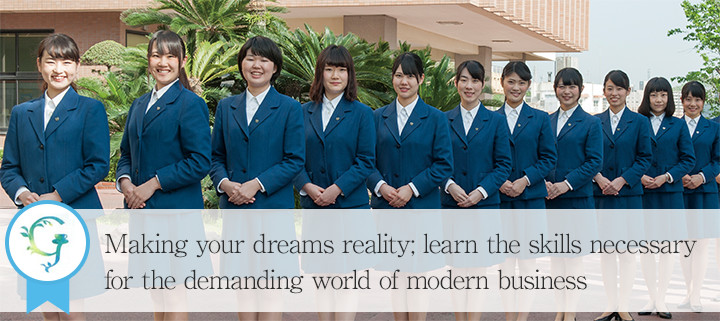 ---
A Unique Way of Learning

Developing the fundamental skills for entering the workforce.

Learning how to properly think, make judgments and act, along with skills in information processing through such things as practical computer classes and internships.
Developing expression, planning and implementation skills.

Through the final graduation project, known as the G Project, students will learn the skills that will be necessary when they enter the workforce. The G Project promotes both individual and cooperative work.
Developing presentation skills.

Students improve their communication and presentation skills through group work and the use of various media.
Gain multiple qualifications.

Our curriculum enables the ability to gain several business qualifications. In the 2 years students establish their own career path that reflects their hopes and dreams.
The Style of Learning

1st year 1st semester: Fundaments of university life

Students learn the skills to live as a member of society from various angles while also being encouraged to be independent. They learn the problem solving and thinking skills they will need over the next 2 years.
1st year 2nd semester: Fundamentals of the workforce

Students learn necessary skills and acquire qualifications necessary for succeeding in the business world. Also through the 'etiquette studies' subject, students can participate in tea ceremony and flower arranging, encouraging inner beauty.
2nd year 1st semester: Developing skills through practical applications.

Commencement of the G Project. Students choose one of five modules, liberal arts, information studies, fashion, quilt production, food. They will develop skills in expression, planning, implementation and production.
2nd year 2nd semester: Contributing to society

As the university develops so does the local area, so students learn practical skills and the importance of teamwork through local volunteer activities Students develop their design and production skills, which they then put into practice for our school festival.
Available Qualifications & Licenses

 Librarian
 Upper level information processing
 Upper level secretarial
 Upper level secretarial(Medical)
 Upper level practical business
 Practical presentation
Other

Information processing
Secretarial
Practical business
Social welfare
Modern Business Course Curriculum