Science of Living Department
Science of Living Major,Creative Living Course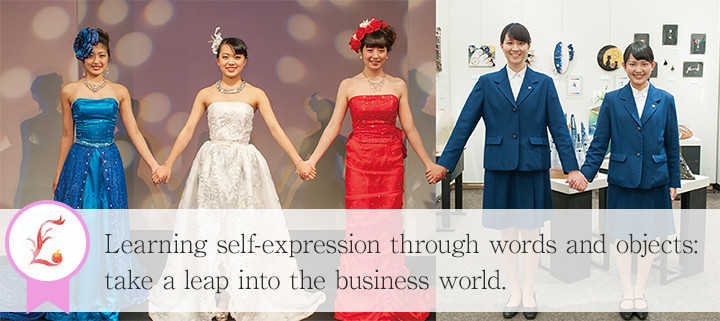 ---
A Unique Way of Learning

Think and learn for yourself

Students will learn the pleasures of study and become independent proactive people through learning how to express themselves with words and objects.
Aesthetic sense.

Students will increase their creativity and gain knowledge in a broad range of areas, such as colour and form, which will be necessary for them to succeed in the workforce.
Life skills

Students will learn important life and problem solving skills that will allow them to survive in the modern world.
Contributing to the local area

We have a close relationship with the local people. Through a range of activities and events in the surrounding area, students learn the importance of interpersonal relationships and becoming kind, considerate members of society.
The Style of Learning

1st year, 1st semester: Fundamentals

Students will learn the basics of art, fashion and even local culture with the Satsuma Comic Haiku subject. They will also learn important skills for their future through training in business documentation and secretarial studies.
1st year, 2nd semester: Being an active member of society

Students will begin to plan for their future career through practical training and internships. In addition, they will learn how to differentiate between art and cultural expression.
2nd year, 1st semester: Increasing creativity and power of expression

Students will gain a deeper understanding of what they learned in the 1st year, increasing their creativity and power of expression. They will also receive training in information processing and increase their presentation and expression skills as they begin job hunting.
2nd year 2nd semester: Application & adaptability

Students are involved in everything from planning to execution in events such as the college festival or the graduation project exhibition. They also join several other events outside the college, allowing the students to take charge and learn how to adjust and succeed in different situations.
Available Qualifications & Licenses

Librarian
Secretarial
Business Presentation
Social Welfare Officer
Fashion Advisor 〔college certified〕
Creative Living Course Curriclum